Welcome to Foxy's Tamarind Bar in Great Harbour, Jost Van Dyke, British Virgin Islands & THE FOXHOLE BOUTIQUE ONLINE. Your favorite Foxy's Gear can now be purchased online, shipping to the USA, Canada & select countries in Europe. Thank you for your support from afar and come visit us soon in the beautiful British Virgin Islands!
A note from the Foxhole founder...
WHEN you make a purchase at the Foxhole Boutique, the bag that holds your wares bears the statement "Foxy's: Forget the State of Nations, this is a State of Mind."  Our many visitors, scattered across the globe, are helping to remind us that this is more than just a slogan. We have heard from many of you out there who cannot be here with us physically on Jost Van Dyke, but are with us in your hearts. We look forward to your return to Jost Van Dyke and to Foxy's for live music and dancing, a regatta or a cold drink to pass the time. Until then...  
-Tessa Callwood (Mrs. Foxy)-
The Foxy's Family...
Has been serving sailors strong drinks and small island charm in Great Harbour, Jost Van Dyke since 1968.  A visit to the British Virgin Islands is a rite of passage for any sailor & our classic foxtail logo has become an emblem in Marinas around the World. All are welcome at Foxy's Tamarind Bar, sail on in today..."Where friends are met and memories made".
shop foxy's gear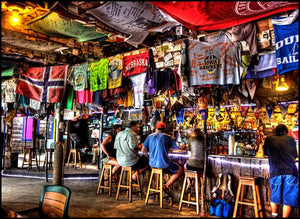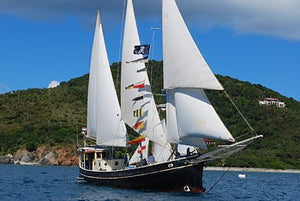 Our friendship with Les Anderson, St John artist in residence, seaman and sailor, from the earliest times in the 1970's and the humble beginning of the FOXYS WOODEN BOAT REGATTA,...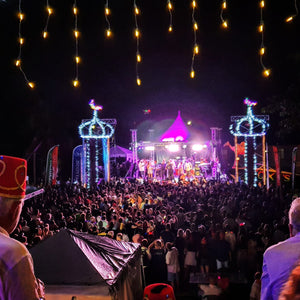 Back in November of 1971 when I first arrived on the shores of Jost van Dyke, Foxy informed me that he usually held a New Years Eve Party, and as...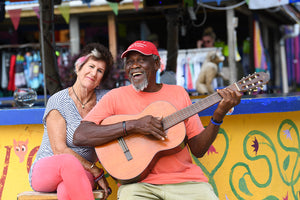 I clearly remember meeting Tessa for the first time.  I had heard about her from my fellow artisans in the islands.  Other artists, jewelry makers, photographers who were creating island...
-THE VAULT- Retired designs-
---
see you soon at foxy's